As the crisp autumn air settles in and the leaves begin to turn shades of orange and red, there's a familiar and thrilling excitement that sweeps through the air. Halloween is creeping around the corner, and with it comes the perfect opportunity to transform your home into a bewitching haven of spooky delights.
Whether you're a DIY enthusiast looking to craft your own eerie decorations or someone who prefers the convenience of store-bought items, consider this your guide to decorating your home for Halloween. We've conjured up a bewitching blend of creative DIY projects and ready-made gems to help you brew up the most enchanting, spine-tingling, and memorable Halloween decor your neighborhood has ever seen!
Go Crazy With Candles
Candles can add an enchanting and eerie ambiance to your Halloween decor. Whether you choose real candles for an authentic flicker or opt for the safety of LED candles, they can be used creatively to set the perfect spooky mood. Place them inside carved pumpkins, float them in the air, or arrange them in a group on your mantelpiece for a hauntingly beautiful effect.
Hang a Flock of Paper Bats
Turn your space into a bat cave by hanging a multitude of paper bats. This budget-friendly Halloween decor idea involves cutting bat shapes from black construction paper or cardstock and strategically placing them on your walls, ceilings, or windows — or even around your front porch. These bats can instantly transform any room into a creepy yet fun Halloween setting. Use this free printable bat template to make your bats!
Hang Cobwebs + Creepy Crawlers
Cobwebs and plastic creepy crawlers are classic Halloween decorations. Hang realistic-looking spider webs (using cheesecloth or rope) in corners and doorways, then add plastic spiders for an extra touch of fright. You can make your own web with rope or use gauze for an easier cobweb look.
Make Witch Hats or Legs
Witch-themed decorations add a touch of magic to your Halloween decor. Create witch hats that glow with this DIY tutorial or legs sticking out of the ground following these instructions. All you'll need for both are some basic household items and craft materials. Place them strategically around your home, on doors, or as part of a witch-themed vignette.
Bring in the Ghosts
Ghostly apparitions are a Halloween staple. You can use white sheets, cheesecloth, or inflatable ghost decorations to create friendly or spooky ghosts of all shapes and sizes. Hang them from trees, ceilings, or porch railings to give your home a spectral touch. Follow this tutorial to make your own ghosts out of cheesecloth!
Swap Artwork with Creepy Portraits
Give your home a haunted mansion feel by temporarily swapping out your regular artwork with creepy vintage portraits. Choose unsettling or eerie portraits or other types of artwork to add an extra layer of spookiness to your decor. Search on Etsy for a variety of portraits you can print in the exact size you need for your frame(s).
Arrange Skeletons
Skeletons are a versatile Halloween decoration. Pose them in various positions, such as sitting at your dining table, climbing up your stairs, or lounging in chairs in the front lawn. Their skeletal presence can evoke a spine-tingling atmosphere — and they're easy to set up!
Spray Paint Foliage Black
You can turn your cheerful fall foliage into creepy Halloween decor with a simple can of spray paint. If you have any branches, leaves or twigs sitting around (or scattered throughout your yard), simply spray it black and set it up in a vase!
Create a Graveyard
Transform your outdoor space into a spooky graveyard by placing faux tombstones, skeletons, and eerie lighting. This outdoor decor idea is perfect for setting the stage for a hauntingly good time on Halloween night. Follow these instructions to learn how to make your own tombstones out of foam — and for a list of punny names to put on each one, like Al B. Bach, Bea A. Frayd, and Dee Kaid.
Make a Mummy Door
Wrap your front door with white fabric or streamers to create the illusion of a mummy. Add some googly eyes peeking out for a comically spooky touch that's sure to delight trick-or-treaters. Follow these simple instructions to create a hilarious front door mummy!
Go Thrifting for Vintage Pieces
Visit thrift and antique stores to discover vintage pieces that can enhance your Halloween decor. Old books, glassware, mirrors, and artwork can add a touch of authenticity and mystery to your space. You can leave them as is or elevate them with some gold or black paint!
Make a Black Cat Planter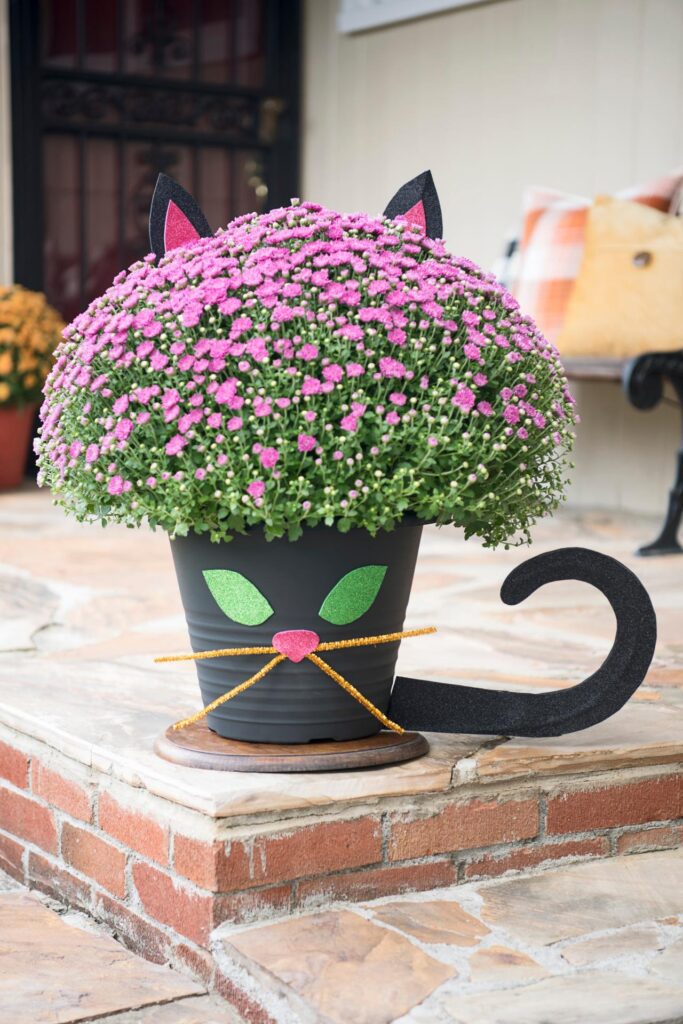 Turn a black planter into a spooky feline friend by adding googly eyes and crafting paper ears, whiskers, and a tail. Fill it with your favorite fall plants (like mums or pansies) for an extra bewitching touch. Follow these easy instructions — the kids will love to help with this one!
Add a Glow with Lanterns
Lanterns can create a magical and eerie glow. Fill them with either real candles or flickering LED light bulbs and add them around your home, porch, or garden to add a warm and inviting yet slightly spooky element to your Halloween decor.
Make Eyeballs Out of Ping Pong Balls
Crafting ping pong ball eyeballs is a fun and easy DIY project. Paint them to resemble eyeballs, and then strategically place them around your home for a playful and slightly creepy decoration — or hang them on a string of Christmas lights for an extra creepy glow.
Happy Halloween!
We hope you have a spectacular, safe, and slightly spooky Halloween!